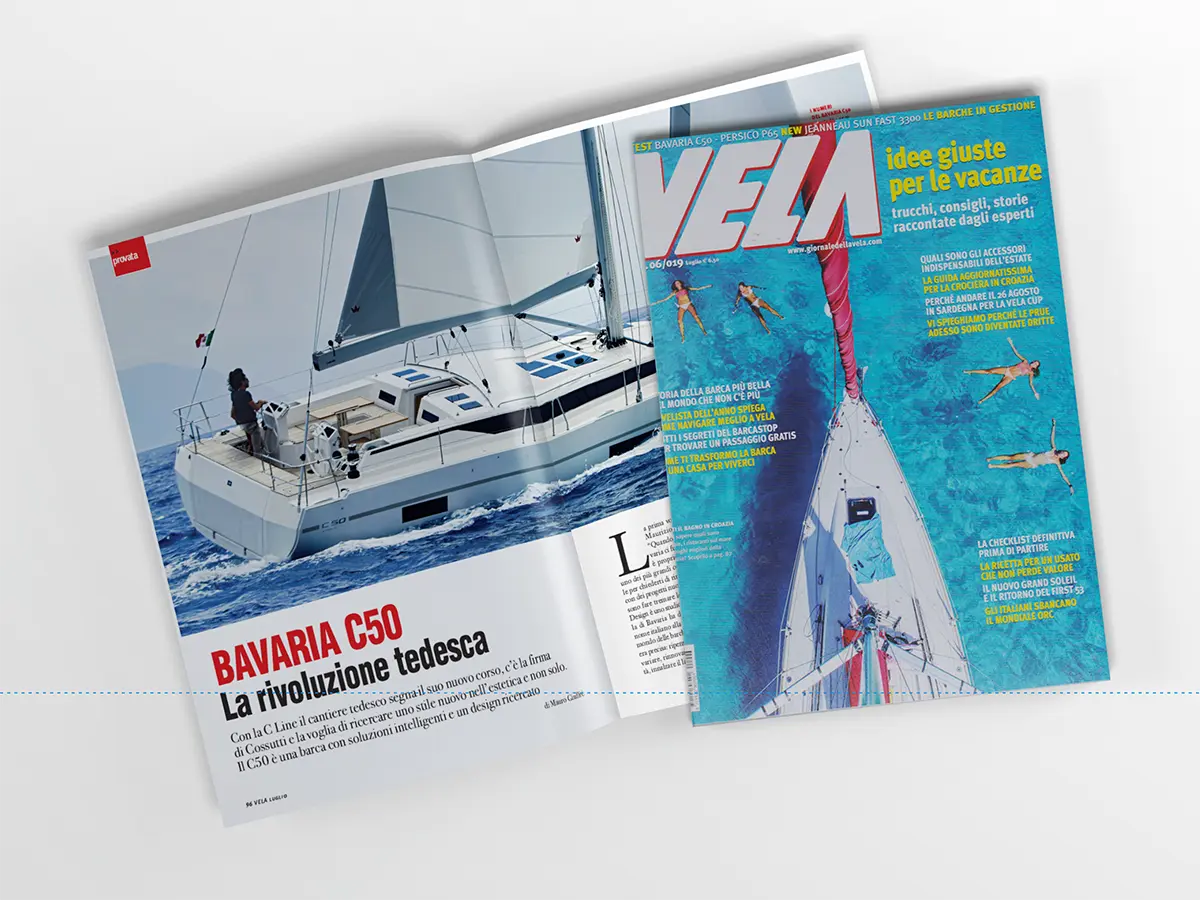 Bavaria C50: The German Revolution
Press Test – Giornale della Vela Magazine – July 2019
With the C Line, Bavaria has set the new kurs. With Cossutti signature and desire to set new style, but not only esthetically. C50 is a boat with intelligent solutions and newly discovered design.
"The first time when we talked with Bavaria Shipyard" says Maurizio Cossutti: "I  needed to find nearest chair!"  And it is true, because if the biggest shipyard in the world calls you to renovate sailing yacht line with new projects, creates great challenges that can shake your legs. But Cossutti Yacht design is the office that got used to challenges and created international name even in serial production. Demand of Bavaria was clear, to create new boat standards that will change, innovate the look, adding sport look, raise the level. Of course, not such an easy task.
C50 is the result of this hard work, together with C45. This 2 new models have formed new  C Line, the ones that position on the market even higher than Bavaria is used by now. Although, this doesn't mean that new C Line is not made for Charter World, the one that Bavaria refers as the main market where is finding the place even with this boats with "personal touch".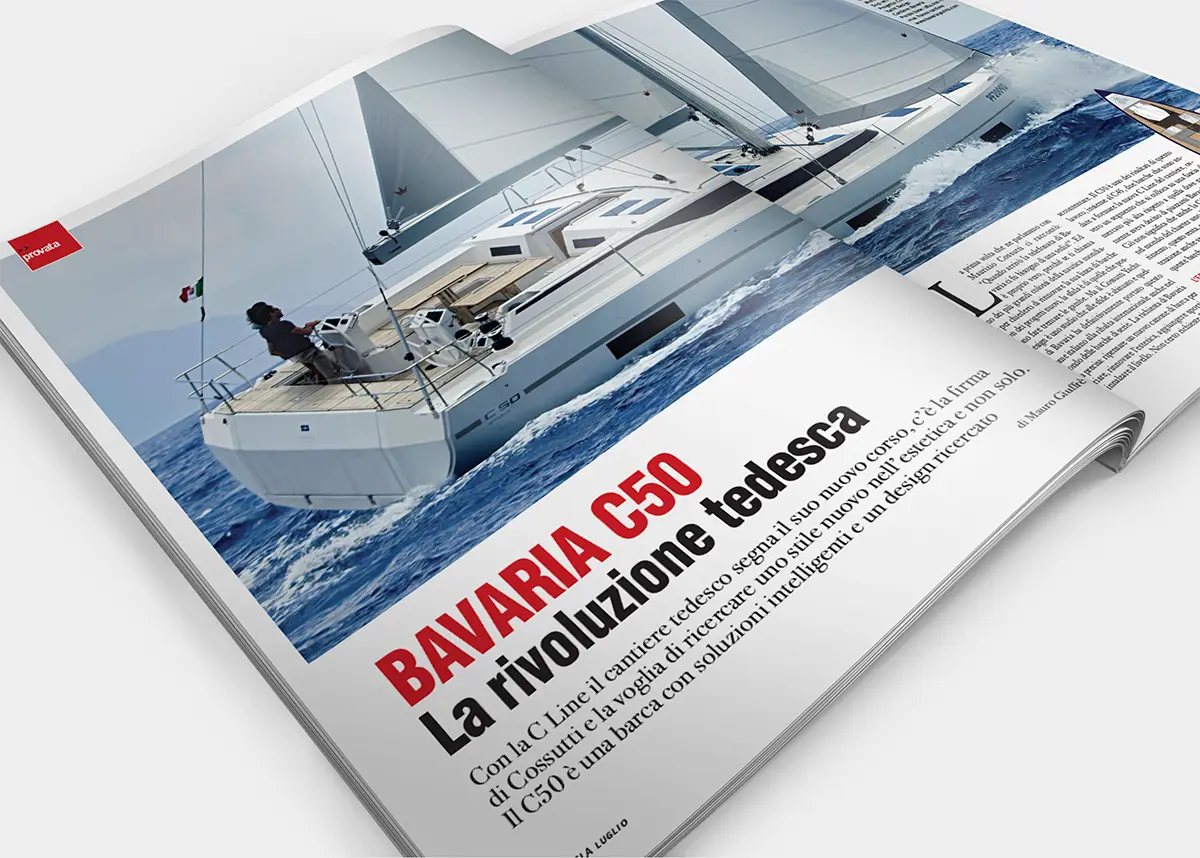 THE LOOK
To meet the taste even of the most demanding boat owner, we controlled at first all the esthetic looks of  the boat with elements that are showing perfection. The idea is born also for this unique deck design. Specially flat and elegant looking deck, with windows made to give excellent look along the decksides creating step level, good design, enough light and angle. The space is wide, free and accessible, giving the cruising feeling also creating enough space inside of the boat. We were curios to explore voluminous interior.
On C50, for sure space is not missing with more then 2 m height. Is not missing approach for private users as well in terms of sail plans which offers different variety to explore best sailing performances of this boat. Boat is presented in 2 versions, in Holiday and in Style version. Holiday is planned more for charter users, while Style is more for private owners. On this 2 versions, there is possibility to add all different kind of optionals to equipe the boat better, even to choose different type of woods.
UNDER THE SAILS
The model we tried was with selftacking jib and a roll mast mainsail, offering enough sail force where potential could be even higher and stronger. The conditions were not the fastest with only 6 knots of wind. In this conditions the boat was obviously penalized, but feeling on the helm was extraordinary, where you could feel this exceptional boat design. The bow is playing, letting the boat go. Boat is speeding up, without forcing it up to wind, creating minimum of apparent wind giving you the possibility to go to 45 deg without loosing the speed. With 6 knots of wind, we've created constant speed of 3,5 to 4 knots. The result was easy handling the boat on the helm, reacting immediately on movements. Despite low wind of 6 knots you could easily bring the boat up and return it down.
Later on we tried Gennaker where we easily reached 9 knots of boat speed. In the angle of 100 deg, boat was moving with 7 knots, boat was slightly healing, not interfering on the force of main sheet. All the manoeuvres are controlled by 2 primary winches. All the lines that are leaded to the stoppers are deck covered with safety opening in emergency cases, or for inspection.
INTERIOR
When entering inside, strikes you the amount of light coming also from windows from the deck above the saloon table, perfectly matching by design and functionality. Bow cabin was Style version with owners cabin in front and 2 cabins in stern. In charter version there is possibility for extra cabin + skippers cabin in front. For safety reasons there are manual handles in case of rough weather. They are position on stern and along the boat. Quality of wood interior is in level of this boat range, optimal solutions for volume and storage place. In one word, perfect for cruising.
Read the full article on "Giornale della Vela" magazine.
cossutti-giormale-della-vela.pdf