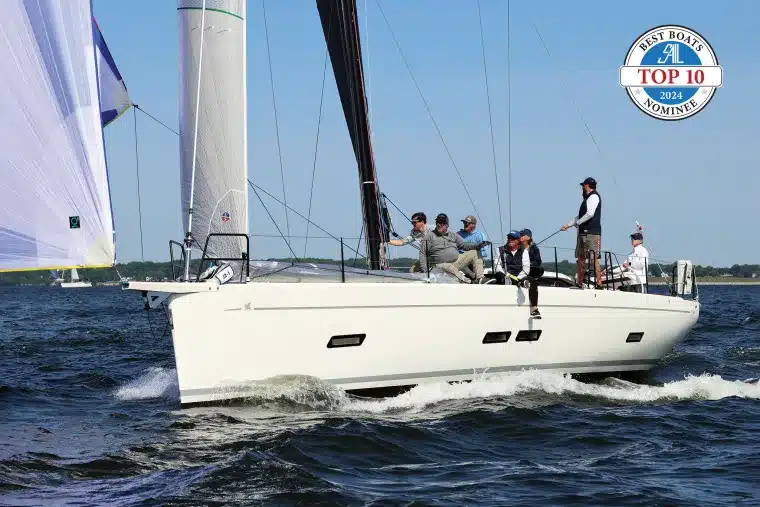 Italia Yachts 14.98 seduces the U.S. – The review by Sail Magazine
Italia Yachts 14.98 rides the wave of success in America: according to Sail Magazine, IY 14.98 is one of the "Top 10 Best Boats 2024″. Wendy Mitman Clarke, Editor-in-Chief of the prestigious US magazine, wrote an enthusiastic review of the boat. "This sleek racer-cruiser makes short work of a shakedown day of a hundred-plus miles", she said.
"As perfect sailing days go, it was a top three, easy," That's how Wendy Mitman Clarke shortly commented on her experience onboard the Italia Yachts 14.98 Artemis during the annual Annapolis to Miles River Race. She was invited by the owner, Jeff Kennedy, to join him and his crew for their first race with the new boat, which was a shakedown for the 475-mile Annapolis to Newport Race a week in the offing. It was a whole day of sailing, a 100-plus miles jaunt, testing and tweaking sails and systems, ending with night sailing practice.
The review provides an in-depth exploration of Italia Yachts 14.98, highlighting the exceptional performance of this sleek racer-cruiser, which impresses the author with its handling in perfect sailing conditions making it a top contender. Wendy Mitman Clarke also describes the boat's deck and cockpit layouts, offering flexibility for various sailing needs.
The article concludes by highlighting the yacht's versatility making it a compelling choice for both racing and cruising enthusiasts. Artemis' owner, Jeff Kennedy, is an experienced sailor who has been in sailboats his whole life. He bought this IY 14.98, Bellissima version, after the previous boat, an Italia Yachts 13.98, primarily for cruising with his family, but he also enjoys and invests in racing. And, as quoted in the article, he is very satisfied with the choice, confirming the excellent qualities of the boat as a true performance cruiser-racer: fast, safe and comfortable.
Read Italia Yachts 14.98 review on Sail magazine website.
Discover more about the IY 14.98 project.
Cover photo by Wilbur Keyworth from Sail Magazine website.