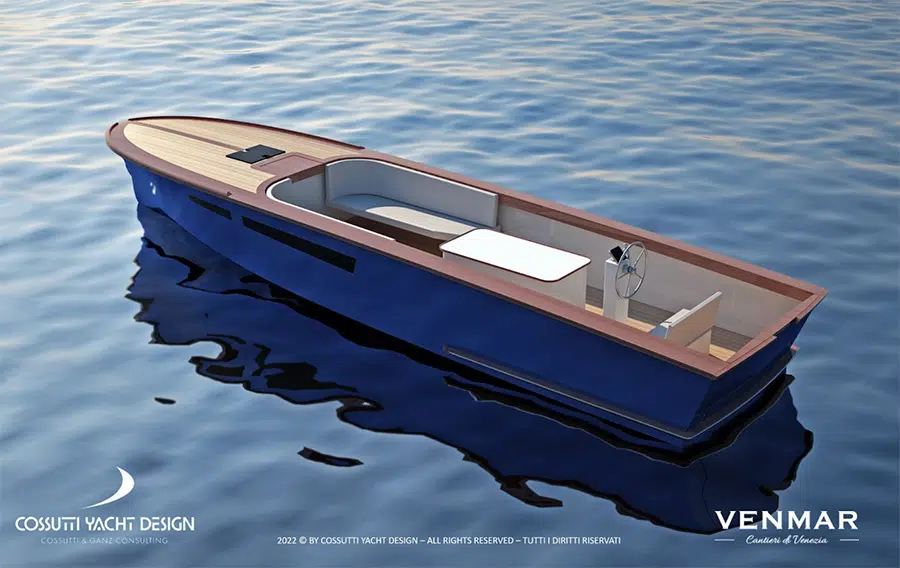 The Venmar shipyard relaunches with the Lido 32.
After Respiro, the motorboat designed around the Yamaha Harmo electric motor presented at the Genoa Boat Show in 2021, the Venmar shipyard relaunches with the Lido 32.
The emotions related to the launch of Respiro at the Genoa Boat Show in September 2021 are still alive, and a new project is on the table of Studio Cossutti. The second project for the Venetian shipyard, Lido 32 is a traditional diesel powered boat, which in common with "Respiro" has been developed to move easy with minimum power in the particular wave formation in the waters of the Lagoon.
As for the younger sister, the construction is very light, in vacuum composite, while the design recalls the classic style of traditional Venetian boats, with some personal details, such as the inverted transom with opening platform, taken from some of our Studio's previous sailing projects.
The large open area, forward of the rear driving console, is completed with two comfortable benches and a kitchen unit that also acts as an engine hood, while under the bow there is space for a double berth that hides a toilet. The finishes of the deck, as per Venmar tradition, are in precious wood, while the floor is in natural cork.