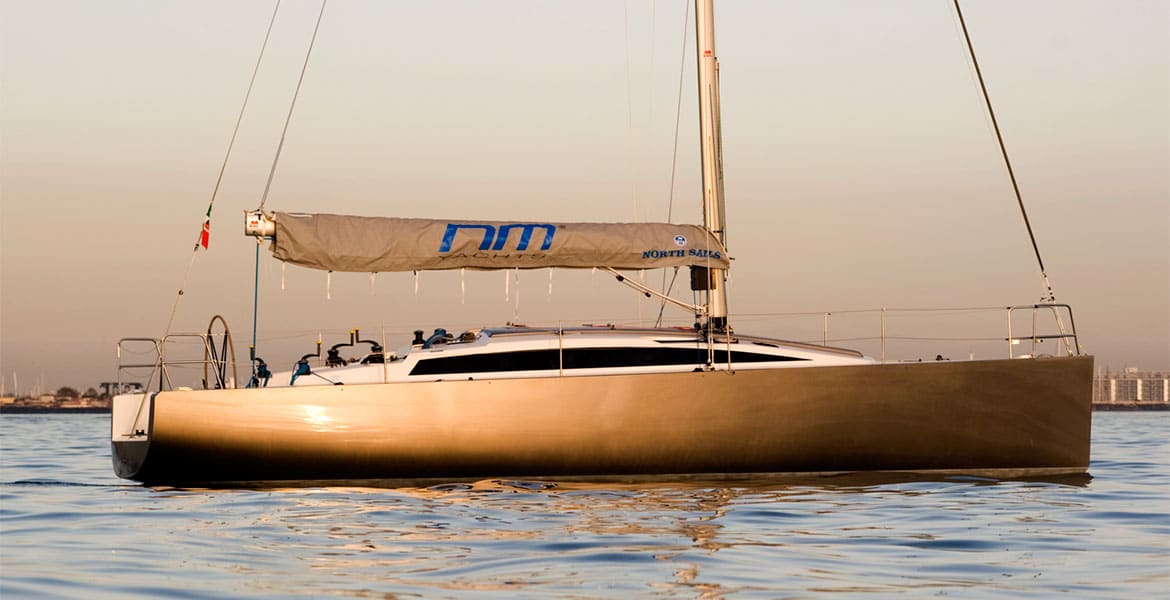 Nautilus NM 38 & 38 S
Year: 2010
Shipyard: Nautilus Marina
LOA: 11.45 m
Model: NM38
Naval architecture: Maurizio Cossutti
Exterior design: Emanuele Pillon
Interior Design: Emanuele Pillon
Structures: Cossutti Yacht Design
Engineering: Cossutti Yacht Design
Property and management: Nautilus Marina
Builder: Nautilus Marina
Lenght overall: 11.40 m
Waterline lenght: 10.15 m
Beam max: 3.85 m
Draft standard: 1.97 m
Displacement: 5600 Kg
Ballast: 1700 Kg
Engine: Diesel 30 Hp
Tanks: Fuel n° 1 80 l / Water n° 2 x 110 l – total 220
CE Certification: European Certification CE, craft "A" category
Sail area upwind: 79 mq
Sail area downwind: 144 mq
The NM38 was an idea of Maurizio Cossutti and Pino Stillitano, owner of the Nautilus Marina shipyard. The boat was designed to have the performances of a racing yacht with the comfort of a cruising one: The results were very impressive, especially for the sport version that won two ORC titles with "Scugnizza" in 2012 and 2013, and the 2nd place at the Europeans 2015 with "Sugar".
From the structural point of view, the boat has been design to have the right stiffness to withstand the natural loads. The hull has been laminated with an optimized lay-up made of infused unidirectional and biaxial fibers. Different types of core have been used on the different areas of the hull and deck to assure the proper balance between weight and stiffness, for example in the forward area, where there are high slamming loads, a high density core has been used in combination with single skin laminate.
The central structure of the boat is made by a matrix of longitudinal stiffeners and transversal floors laminated directly in the hull with a combination of glass biaxial end carbon unidirectional fibres which is designed to take the high loads deriving from the mast, shrouds and keel and transfer them smoothly to the hull. All the bulkheads are made with composite material and they are bonded and tabbed to both hull and deck.
The appendages have been designed for the best hydrodynamic efficiency and they have been optimized with the best CFD techniques. The keel is assembled with a cast iron fin and a lead bulb and it is milled to have the proper designed shape; the keel profiles have been designed and validated with the CFD to have a very high efficiency even if the keel span is short.
The sailing plan has been developed in collaboration with the north sails designers and optimized with the CFD techniques.